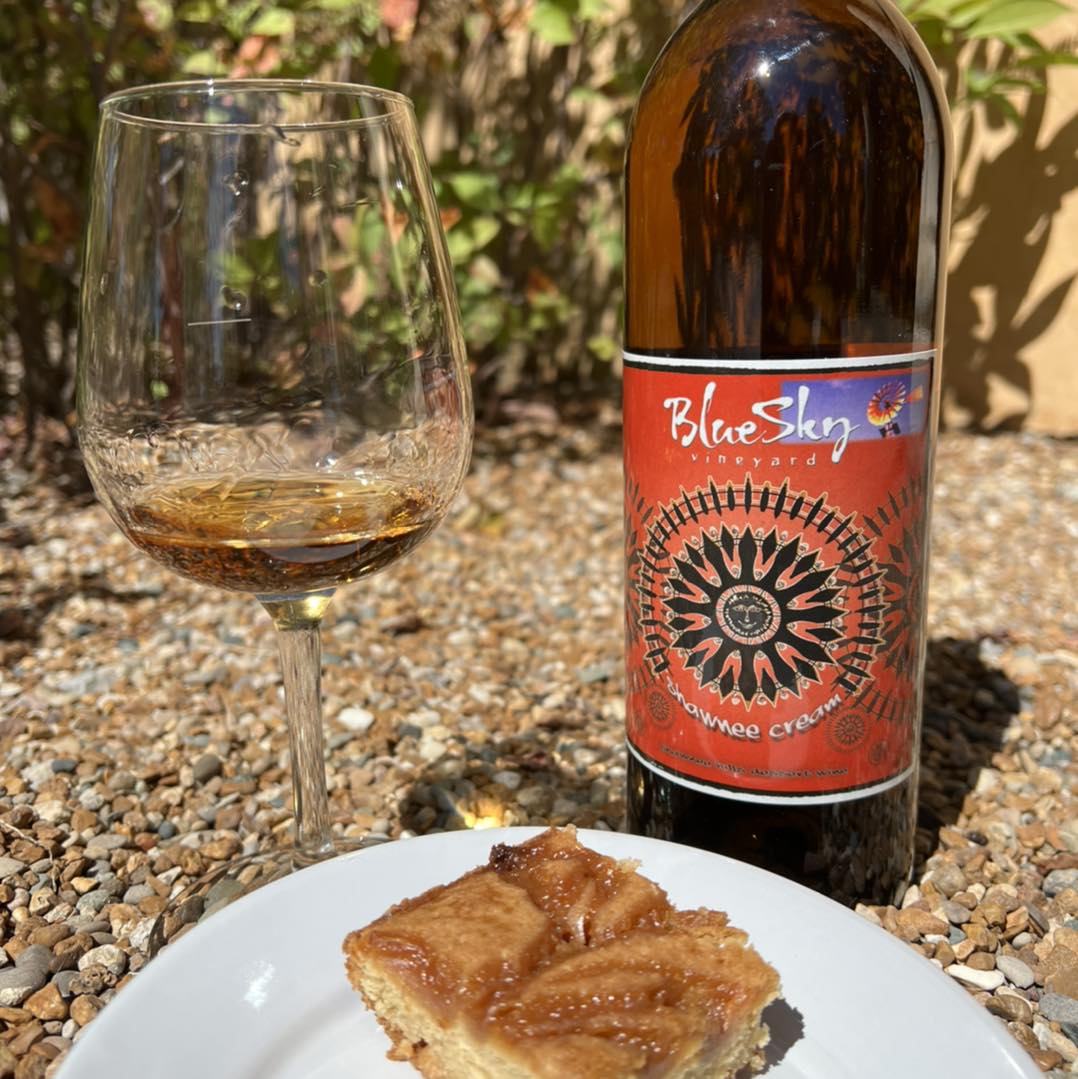 **Recipe from Farmette Kitchen**

Salted Caramel Blondies

The buttery / nutty nuances of our Sherry become even more pronounced with the sweet and savory flavors of this easy to make recipe.  The richness of the wine pairs well with the salty and sweet of the dish.
Ingredients
1 ½ cups all-purpose flour
1 tsp baking powder
½ tsp salt
1 ½ cups light brown sugar,, packed
12 tbsp unsalted butter,, melted and cooled
2 large eggs
1 ½ tsps vanilla extract
½ cup white chocolate chips
½ cup caramel bits (or 12 unwrapped caramel squares)
2 tbsp heavy cream
flaky sea salt for topping
Preheat oven to 350 degrees. Prepare a parchment paper sling for a 13×9 baking pan and spray with non-stick baking spray.  
Whisk flour, baking powder, and salt together in a bowl.
In a medium bowl, whisk sugar and melted butter together until combined.  Whisk in eggs and vanilla.  
Using a rubber spatula, gently fold in the flour mixture.  
Once the mixture is fully combined, fold in the white chocolate chips and set aside.
Add the caramel bits and heavy cream to a microwave safe bowl.  Microwave at 50% power in 30 second increments, stirring after each time, until smooth and fully combined. Allow the caramel mixture to cool slightly- not so much that it becomes thick and hard, but you don't want it piping hot either.
While the caramel is cooling, scrape the batter into the prepared pan and smooth the top.
After the caramel has cooled slightly, carefully drizzle it over the batter.  Use a knife to create a marbled swirl by running the knife in the opposite direction of the drizzle.  (If you drizzled the caramel horizontally, use the knife to make vertical strokes.)
Bake until the top is shiny and cracked slightly, it should feel slightly firm to the touch (not jiggly), about 30-35 minutes, rotating the pan halfway through baking.
Immediately after removing from the oven, top with flaky sea salt. (A generous pinch across the top.)
Let the blondies cool in the baking pan for 10 minutes.  Remove the blondies from the baking pan and cool completely on a wire rack before cutting into bars.