Grapes grown at Blue Sky Vineyard include: Chambourcin, Norton, Vignoles, Seyval, Cabernet Franc*, Traminette, Niagara and Chardonnay*. (*Indicates Vinifera)
Roughly 13 acres are planted or about 7,750 vines. Just over 11 of these acres are actually in production and the others are currently in the process of reaching their maturity. Vines take 3 years to grow a partial crop after planting. In 5 years the vines will produce a full crop.
The grapevines that we grow are mostly hybrid vines. This means that at least two varieties of grape have been cross-bred to form a different grape variety. Our Cabernet Franc and our Chardonnay are vinifera or European grape varieties. The elevation at Blue Sky Vineyard (600ft) combined with other factors like climate, soil and drainage allows us to grow the vinifera vines here.
You will find the scenery of southern Illinois very different from that of the rest of the state.  Southern Illinois is part of the Ozark foothills and is un-glaciated. Most of the area around Southern Illinois was leveled by glaciers. We are part of the "Shawnee Hills" American Viticultural Area which was designated in 2006 by the federal government.  This designation was sought after by Ted Wichmann, and was granted due to the unique circumstances that make our area perfect for growing grapes with unique qualities.
What is an American Viticultural Area?  An American Viticultural Area (AVA) is a designated grape growing region in the US, distinguishable by geographic features. AVA's have geographical boundaries defined by the Tobacco and Trade Bureau (TTB).  These designations allow vintners and consumers to attribute a given quality, reputation, or other characteristic of a wine made from grapes grown in an area to its geographic region.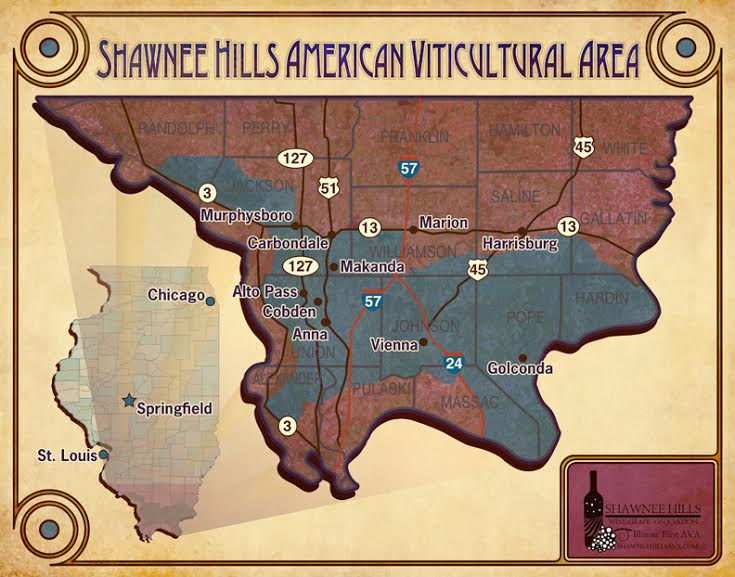 Terroir is the complete natural environment in which a particular wine is produced, including such factors as soil, topography and climate.
The climate and characteristics of the land the grapes are grown in have such a profound impact on the wines we drink.   Each wine is truly unique because of its terroir.
At Blue Sky Vineyard, we strive to produce elegant wines that showcase the integrity and uniqueness of both varietal and terroir.
What Makes the Shawnee Hills Region Unique?
The boundaries of the Shawnee Hills AVA encompass 2,139 square miles and 1,368,960 acres.
The name is derived from the Shawnee Hills Indians who occupied these hills in the early 1800's.The area is an un-glaciated 800 to 1,000 foot ridge of limestone extending from the Mississippi to Ohio rivers in southern Illinois.
Shawnee Hills elevation ranges from 400 to 800 feet higher than the glaciated land to the North and the delta/coastal land to the South. Many of Illinois' highest elevations are located within the Shawnee Hills American Viticultural Area.
The Shawnee Hills maintains a unique meso-climate with warmer winter temperatures and a longer growing season resulting from higher elevations. This allows the fruit to fully ripen prior to harvest and tends to generate higher sugar levels, producing higher alcohol wines that display fresh, rich fruit aromas and flavors. 
The topography of a site plays important roles in grapevine growth and quality, and also has interactive effects with climate elements. Topographic factors that exert the greatest influence on a site's climate include elevation, slope.  The Shawnee Hills AVA features karst topography with limestone bedrock sinkholes, caves and surface springs. 
The Shawnee hills is made up of primarily thin loess soils. This allows for superior surface and internal water drainage.  Just like pasta needs to be boiled in salt water in order for it to have any flavor, the soil that grapes are "cooked" in plays a big role in the molecules that are carried through the roots, up the vine, and deposited into each little grape.
The Shawnee Hills Wine-Grape Association was formed in 2007 to represent the best interests of the Shawnee Hills AVA and the grape growers and wineries within it's boundaries and to act as a vehicle, authorized by its members, to plan and execute a strategy for successful growth of its wine-grape industry. 
 Click Here to learn more about the Shawnee Hills American Viticultural Area.