Movie Night Opens 6:30pm | Movie Begins 7:00pm | Close at 9:00pm

A movie and a glass of wine are the perfect pair.  Join us for our Friday night movie series and unwined after a long week.  View classic movies on our BIG screen TV's inside the winery tasting room and enjoy family, friends, a nacho bar and more.  A great way to spend date night or an evening with friends.

10% Discount on "To Go"  Wines
$2.00 Beers (12 ounce)
February 16, 2018 – Breakfast at Tiffany's



Don't Be Like the Rest of Them Darling.

Based on Truman Capote's novel, this is the story of a young woman in New York City who meets a young man when he moves into her apartment building. He is with an older woman who is very wealthy, but he wants to be a writer. She is working as an expensive escort and searching for a rich, older man to marry.
You Pick the Next Movies
After each event, we will offer a "movie wish list" to our guests where you choose which movies will be played at the winery.
---
February 23, 2018 – The Great Outdoors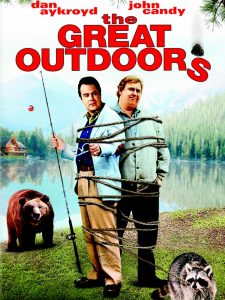 "Big….Bear…Big Bear…Big Bear Chase Me!!!!".

It's vacation time for outdoorsy Chicago man Chet Ripley (John Candy), along with his wife, Connie (Stephanie Faracy), and their two kids, Buck (Chris Young) and Ben (Ian Giatti). But a serene weekend of fishing at a Wisconsin lakeside cabin gets crashed by Connie's obnoxious brother-in-law, Roman Craig (Dan Aykroyd), his wife, Kate (Annette Bening), and the couple's two daughters. As the excursion wears on, the Ripleys find themselves at odds with the stuffy Craig family.
This Will Be Our Last Movie of the Season