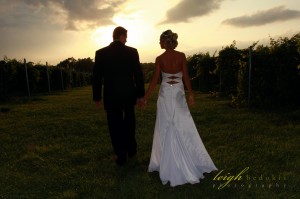 Ceremonies & Receptions
Blue Sky Vineyard is one of the most accommodating venues in southern Illinois.  Along with the captivating Tuscan architecture, award-winning wines, and two beautiful suites, Blue Sky Vineyard offers a friendly and supportive staff to help you best plan out your special day.  Our Tuscan Sun Event Pavilion offers the perfect venue for weddings, wine seminars, wine and food pairing events and is a unique alternative to corporate meetings and retreats.
We are committed to providing you with the best experience possible on your special day.  Please contact our event coordinator for pricing and additional information.
Carrie Shalosky – bsvevents@gmail.com
Off-Season & Special Event Pricing
Friday Event Pricing
20% off Standard Event Price.  No discount will be given on a legal Holiday or Holiday eve, or if the date falls during a Holiday weekend.
Sunday Event Pricing
40% off Standard Event Price.  No discount will be given on a legal Holiday or Holiday eve, or if the date falls during a Holiday weekend.
Off  Season Event Rates-Must be held between November 15-March 15
Enjoy up to a 50% discount from November 15 – March 15.  (Discount not given if event is held on a legal Holiday or on a Holiday eve.)
Note: Discounts only apply to Pavilion/Gazebo rental prices, not on wine, beer, etc.
PLEASE READ PRICING SPECIFICS AT BOTTOM OF PAGE FOR INCLUSIONS AND EXCLUSIONS
All pricing will include tables and the appropriate number of chairs for your guests. *For large events, a mix of round and rectangle tables will used as guests tables. Large events will have to have dinner service in place of a buffet. (Tent and 'In the Vines' weddings are not included in the packages.)
A reduction in price may be available for events scheduled on Monday, Tuesday, Wednesday or Thursday.
Please refer to our Information Terms and Conditions for some specifics; also available as a download for your convenience.
Please call the Event Coordinator if you have any questions or concerns, or would like to schedule an appointment  for a formal meeting at Blue Sky Vineyard. By phone @ 618-995-9463 ext 29, or by email @  bsvevents@gmail.com,
---
+All prices and conditions are subject to change without warning prior to the confirmation of a date with a down payment.
---
Ceremony with Reception Specifics
(Tent and 'In the Vines' Weddings not included in pricing specifics)
Extra things to take into consideration.
Our winery / tasting room will be open on the day of your event.
All event pricing includes:
Appropriate number of tables and chairs for your event

Waterfall and Gazebo areas

Bride's dressing room

Two men's restrooms for dressing

White folding chairs for ceremony

Audio equipment for ceremony, (if not done by D.J. service) including one wireless mic for the officiant and one handheld mic for a singer/speaker  Ceremony music must be done by a designated guest of your choosing, DJ or band member. (BLUE SKY SOUND SYSTEM CANNOT BE USED IN PLACE OF BAND OR DJ FOR RECEPTION DANCE MUSIC. May be used for ambient dinner music.)

Event Bar / Wine Glasses (Must use Blue Sky Bartenders at a fee of $11 per hour per each bartender needed)

One hour wedding rehearsal scheduled the day prior to the event (must be scheduled with the coordinator).
Prices do NOT include:
Food or cake

Tablewares (plates, napkins, silverware, cups or glasses- other than wine glasses)

Champagne or Champagne glasses (There are enough champagne glasses for the wedding party only)

Alcohol/wine/soda/soft drinks

Bartender fees (ONLY Blue Sky Vineyard bartenders may be used at a fee of $11 an hour per each bartender needed)

Groom's dressing room

Blue Sky Vineyard Bed and Breakfast Suites

Linens (Blue Sky Vineyard offers burgundy or black linens – $7.00 each or linens may be ordered through the caterer or through a linen service of your choice)

DJs/Band/Music Services for the ceremony and/or reception

Flowers or any other decorations (including extension cords or other decorating items)