Blue Sky Vineyard – Annual Luau

April 29, 2017 – 10:00am – 7:00pm

Break out the grass skirts.  It's time for a Luau!  Enjoy a great day at this Hawaiian-themed festival.  We will be hosting a Whole Roast Pig on the lawn, Hula Hoop and Limbo Contests, Best Dressed Contest, Great Prizes, Tarot Card Reader, Live Music with Dan Barron and more!  Admission is FREE, so bring the family out for a great Blue Sky day!
Total Solar Eclipse 2017
August 21, 2017
Did you know that Blue Sky Vineyard is NASA's Point of Longest Duration for the 2017 eclipse? In celebration, we are planning a four day event complete with Self Contained Camper parking, food, music, and even a special-label release wine!  Truly a one-of-a-kind experience.  Bring the kids, or share the experience with that special someone.  More information will be forthcoming, so keep checking back for updates!
Saturday and Sunday in the Park Music Schedule
Every Saturday and Sunday from 2:00pm to 5:00pm we have talented artists share their musical influences with our patrons.  Enjoy award-winning Illinois wine and a relaxing afternoon at the vineyard.  Our music events are FREE of charge except for festivals or special occasion events.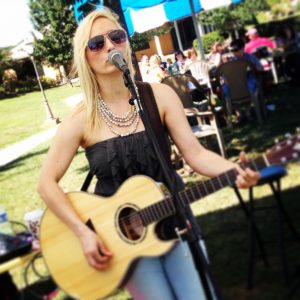 Saturday, April 1, 2017 – Tennessee Two Piece – (Country/Americana)
Sunday, April 2, 2017 – Dave Clark & Max T. Barnes – Nashville, TN Singer/Songwriter – (Country/Rock)
Saturday, April 8, 2017 – Beattie Rhodes – (Acoustic Folk/Rock)
Sunday, April 9, 2017 – Nicole Nelson – Nashville, TN –  (Acoustic Bluesy/Rock)
Saturday, April 15, 2017 – TBA
Sunday, April 16, 2017 – Dave Clark & Greg Clutts – (Country/Rock)
Saturday, April 22, 2017 – Fiddle Rick & Cash – (Jazz/Blues)
Sunday, April 23, 2017 – Bill Harper – (Folk/Rock)
Saturday, April 29, 2017 – LUAU – Dan Barron Trio – (Modern Island Music)
Sunday, April 30, 2017 – Dan Barron – Cleveland, OH – (Folk/Rock)