Wine Under the Stars

Due to Cloudy Skies and the Chance of Rain – Our Event Has Been Cancelled
Friday, October 12, 2018 | 6:00-10:00pm



Members of the Astronomical Association of Southern Illinois will have multiple telescopes set up at Blue Sky Vineyard for viewing the night sky starting around dusk.  You are invited to enjoy Illinois wines, great discussions, and to come out and view the stars with the members of the Astronomical Association.
Halloween Bash

Sunday, October 28, 2018

Join us for a howling good time at the vineyard and don't forget to wear your favorite costume for a chance to win great prizes.  We are inviting all ghosts, ghouls, goblins and zombies for a day of spooky fun at Blue Sky Vineyard.  Cheers!
Murder Mystery Dinner – Honeymoon from Hades

Saturday, November 17, 2018

Anything that CAN go wrong HAS gone wrong aboard the S.S. Amore, a not-so-luxurious honeymoon cruise ship.  Just when it looks like the cruise won't be a total disaster, the Captain is murdered.  Join us for a fun night of wine, music, murder and more.
Saturday and Sunday in the Park Music Schedule
Every Saturday and Sunday from 2:00pm to 5:00pm we have talented artists share their musical influences with our patrons.  Enjoy award-winning Illinois wine and a relaxing afternoon at the vineyard.  Our music events are FREE of charge except for festivals or special occasion events.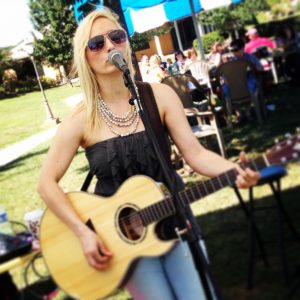 Saturday, September 29, 2018 – Fiddle Rick & Friends – (Fiddle Bon)
Sunday, September 30, 2018 – Jonny Coller – (Folk/Americana)
Saturday, October 6, 2018 – Colorfest Celebration – $7.00 Admission – Click Here for Details
Sunday, October 7, 2018 – Leight July – Paducah, KY – (Bluesy Americana)
Saturday, October 13, 2018 – Dave Clark – (Country/Rock)
Sunday, October 14, 2018 – Patrick Lee Beasley – Nashville, TN – (Country/Blues/Rock)
Saturday, October 20, 2018 – Mike Lescelius – (Acoustic Folk/Rock)
Sunday, October 21, 2018 – Chris Chamness – Chicago, IL – (Acoustic Rock & Roll)
Saturday, October 27, 2018 – Sabrina & Tony – (Acoustic Rock)
Sunday, October 28, 2018 – Halloween Festival ftng. The Natives (Classic Rock/Blues/Originals & More)